RSS and SEO - Raising the Bar
Tuesday, April 07, 2009
When I
announced
FeedBlitz's
FeedBurner competitor
last week, one of the claims I made was that, as a FeedBurner alternative, FeedBlitz's RSS service offered better SEO (search engine optimization). A commenter asked me to back up those claims, which I'll do here.
For those who aren't sure, SEO is all about getting pages form your site to appear as close to the top of the search engine results pages (aka SERPs) as possible. The closer to the top you are the more visitors you get to your site because people tend to only visit the top few sites on the first page. The key to SEO is, first and foremost, writing good content. Without that you're sunk. But with good content you can then start to focus on keyword targeting and links, which are the bread and better of any SEO exercise.
And it's here where FeedBlitz's RSS services can really make a difference when compared to FeedBurner or the standard feed sent out by your blog.
Smart Linking
When FeedBlitz manages your RSS we collect data about your readers and can track what they click on. This gives you reach and activity metrics which are essential to better understanding your audience. To do that, however, FeedBlitz and FeedBurner (with click through tracking enabled) need to alter the links on your feed so we can track the visitors as they click. And the problem from an SEO perspective is that the links look like something like this:
http://feeds.feedblitz.com/~/10655/0/feedblitz
- mostly codes and numbers bearing little relationship to your original post. Yuck!
That's crummy for SEO, unlike the typical link on your blog, which often has keywords in it because of the way blogs work. For example, the ultimate address for the tracking link above is actually
http://blog.feedblitz.com/2009/04/rss-and-google-analytics-integration.html
How then to track metrics (which is a good thing) and be SEO-friendly?
FeedBlitz to the rescue. Our links now include the post title in the tracking link. The link that appears in the FeedBlitz feed for the analytics post above is not the one I gave you a couple of sentences ago. It's actually this:
http://feeds.feedblitz.com/~/10655/0/feedblitz~RSS-and-Google-Analytics-Integration
This is great for SEO - your post title is in the link, and titles are keyword rich environments that search engines like, but you get the benefits of our tracking it and building RSS subscriber metrics for you. So now you don't have trade tracking for SEO - with FeedBlitz you get both, automatically, with zero effort in your part.
These SEO-friendly smart links appear in your RSS feed, its browser-friendly version, and the mobile version. They're completely compatible with our unique Google Analytics integration,
CNAME
s and any other redirection strategies you employ on your own site.
Better yet, since your RSS feed is the source for resyndication out to third party sites, you get the downstream SEO benefits of when the post is linked to elsewhere by folks reading it in their feeds.
Better Browser Friendly
When a person hits your feed they'll get a "browser-friendly" version - it's HTML, not XML, and is much more accessible for humans than for computers. FeedBurner has this too, but by default it isn' t HTML. The data format matters, and I'll get to that in a moment.
But first, you need to know one of the things that can influence a page's rank in SEO is where the content - and the keywords that the search engines are looking for - appear on the page. Usually, the closer the content to the top of the page, the better. If you look at a browser-friendly version of a feed (try this one about Barack Obama:
http://feeds.feedblitz.com/barackobamaradar&x=0
) you'll see that the page is all about the content; the only part that specifically mentions FeedBlitz is at the very bottom of the page. Great for SEO. Compare and contrast that with the FeedBurner equivalent (here's social media mega site TechCrunch's feed:
http://feeds2.feedburner.com/techcrunch
). It's pretty much all FeedBurner up top there, above the fold, not Mr. Arrington's content. Great for FeedBurner; less so for you, the content owner.
Or, in pictures, using TechCrunch to Blitz a demo feed for an apples to apples comparison, with the "noise" added by each respective service highlighted using a 1024x768 window:
FeedBurner browser friendly: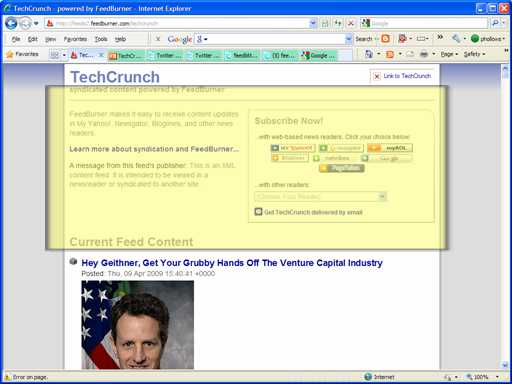 FeedBlitz browser friendly: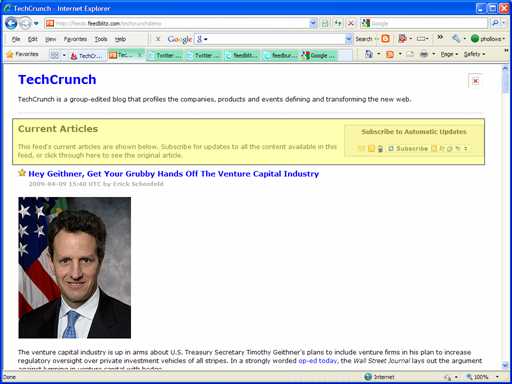 As you can see there's much less noise from us (and no mention of FeedBlitz at all in the stuff we add), and we add the feed's description. The other browser-friendly version pushes the content down and, the title at the very top aside, most of the text where the reader's eye falls first is all about the vendor not TechCrunch.
Search Engine Friendly
FeedBlitz's browser-friendly version also goes further than what's visible in the browser. The browser-friendly version is always served as HTML (i.e. as a web page), so it can be indexed by ordinary search engines (most, including the main Google search engine, avoid feeds in feed format, which is what FeedBurner serves browser-friendly as by default). It also includes meta tags, pulled from your feed and your post tags, for the description and keywords. Meta tags help search engines understand your content better, so having them there is a big plus. It automatically adds a feed autodiscovery link pointing back to your RSS. All while using the Smart Links I mentioned earlier. Here's the browser-friendly version of the FeedBlitz RSS feed:
http://feeds.feedblitz.com/feedblitz&x=0
- use the "View Page Source" in your browser to see the SEO tags we added if you're interested.
(Plus I think it just looks better for people. You know, those carbon-based life forms you're ultimately trying to reach).
Better Partial Feeds
For those who use partial feeds, FeedBlitz is way ahead of anything else out there. Take a look at the
browser-friendly version of this blog's feed
again. I have the browser-friendly version set up to offer partial text, but if you look at the content of the posts there you'll see there are links that work. Bold text in places. Bullets. And all the flares are there. Working links is vital for SEO, because links help boost your ranking. if the links are removed then neither people nor search engine crawlers (like Google's) can get to the content you're trying to get them to. Without FeedBlitz partial feeds are literally a dead-end; a link-free wasteland that stops SEO bots and people alike.
With FeedBlitz, a partial feed or browser-friendly display is suddenly a nicely presented, keyword-rich environment that that both search engines and people will appreciate. The flares all work (and they're not mangled either; they use your URL too, which is good for SEO). It's both better looking and more functional for people and machines alike.
Finishing the Play - Custom Footers
Finally, you can add a custom footer to all your articles with FeedBlitz (can't do that with FeedBurner). That can be an SEO-friendly link to your site. It can be a link and a copyright notice to help reduce RSS-scraping revenue theft. We use it on our feeds to point people back to this blog; any safe and valid HTML can be added.
Advanced Users - NOINDEX
FeedBlitz.com has a Page Rank 8 home page and as such that strength can sometimes distort SERPs. For advanced users who don't want our versions of their content to be added to indexes we offer the NOINDEX option on the RSS - Settings page. It's off by default, though (i.e. no noindex, or (that is to say) yes: please index this content).
FeedBlitz RSS - Better SEO
So there you have it. If you care about SEO and want a better feed solution that will help, not hurt, your search engine optimization activities, all with next to no effort and without sacrificing metrics, choose FeedBlitz.
[Reposted to address broken tinyurl]
Labels: FeedBlitz, feedburner, feedburner alternative, RSS, search engine optimization, SEO