New WordPress Email Plugin Integrates Subscriber and User Registration
Monday, June 08, 2009
UPDATE! This plugin now also adds "subscribe" checkboxes to your comment forms too! Click here
http://blog.feedblitz.com/2010/08/get-more-wordpress-email-subscriptions.html
for the news
I'm pleased to announce a public beta of FeedBlitz's very first WordPress plugin!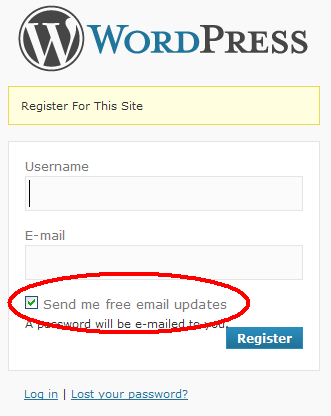 The FeedBlitz "Member Mail" plugin enables hosted WordPress blogs to integrate email newsletter signup with the user registration screen. With the plugin activated, the visitor selects a "subscribe me" checkbox when they register for an account on your site (see the example on the left). As well as registering the user, enabling the FeedBlitz checkbox seamlessly starts FeedBlitz's mandatory dual opt-in email subscription process.
You get the benefit of simplifying the subscription process for visitors, thereby greatly increasing the odds of gaining a
subscriber
as well as a
user
. Crucially, you get all this without having to work with the FeedBlitz API, which up until now was the only way to achieve this effect. Instead, just drop in the plugin, activate it and you're up and running.
You can also customize the text next to the checkbox. However, like all WordPress plugins, it won't work on wordpress.com sites. It only offers email subscriptions to your blog (so no IM or Twitter options). The plugin also does not eliminate the need for a regular subscription form or link on every page of your blog, since you want to be able to capture subscribers who aren't users, are visiting directly from search engines, or who are already users who will never go have cause to go back through the registration process. You can generate a new RSS to email subscription form at any time at
Newsletters - Forms - Subscription Forms
.
We've tested it on WordPress 2.7 but I see no reason right now why it shouldn't work on 2.5 or later (no doubt someone will tell me if I'm wrong :-) ). Support via the usual channels, comments welcome. You do of course have to have an active FeedBlitz account and an RSS to email newsletter set up. Links to help you with this are in the plugin configuration screen.
Download the FeedBlitz WordPress plugin here
.
One final note: Thank you to
Jenn Mattern
(follow her on Twitter
@queryfreewriter
) for helping kick the tires pre-release.
Labels: FeedBlitz, rss to email, user registration, wordpress, wordpress plugin